This week, our workshop features Amelia and Thandi, both engaging in creative upcycling endeavors.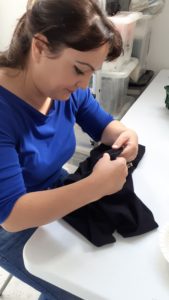 Amelia's focus was on her cardigan, a piece of clothing with delightful material, yet not complementing her body as she desired. A novel perspective was proposed to Amelia – an exploration beyond conventional styling. By ingeniously reversing the cardigan, its back transformed into the front, and vice versa. Through this innovative approach, Amelia delved into the art of crafting drapes using blind stitches, skillfully taming the raw edges of knit fabric, and mastering the delicate technique of hand-sewn buttons and buttonholes.
Thandi, on the other hand, embarked on a dual venture, utilising two distinct items from her wardrobe. Her dress, though not a perfect fit, boasted enchanting puff sleeves that she held dear. Additionally, a humble tee shirt, a remnant of her uniform, found its place in this transformational journey. The intriguing possibility emerged to merge these two pieces harmoniously. As a result, Thandi elected to preserve the sleeveless dress for an upcoming upcycling venture, a testament to her vision and resourceful thinking.
The workshop was enriched by the spirit of collaboration, where experiences were shared, and the joy of learning permeated the atmosphere.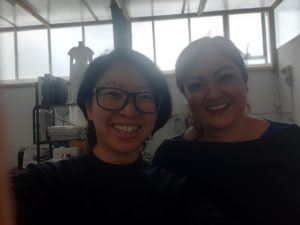 Order your tickets today!
Space is limited, so don't wait. This is a great opportunity to learn new skills, meet new people, and make a difference in the world.
We hope to see you there!