Diving With the stars
First Capulse Bridal Collection
Introducing our exclusive bespoke wedding dress and evening gown collection "Diving with the stars", where each piece encapsulates the essence of a unique love story while championing sustainability. At the heart of our ethos lies the belief that elegance and environmental responsibility should seamlessly intertwine. We extend a warm invitation to our valued customers to embark on a collaborative journey, designing extraordinary garments that will hold a special place in their hearts.
The "something blue" design draws from a whimsical dream where humanity transformed into celestial stars, moving gracefully through the cosmos like golden fish. Again, I am happy to collaborate with wearers to create their one of the kind prints if wanted.
Our collection places a strong emphasis on eco-conscious practices, showcasing exquisite designs meticulously fashioned from carefully sourced dead-stock fabrics. These materials, once deemed excess by other fashion houses or mills, have found new purpose in our creations. By choosing a gown from this thoughtfully curated assortment, you are not only adorning yourself in opulent beauty but also making a positive impact on our planet. Your sartorial choice aligns seamlessly with your values, affirming that elegance need not come at the expense of environmental integrity.
Sustainability is not merely a buzzword for us; it is the cornerstone of our brand. We are dedicated to combating the prevalent issue of fashion industry waste. The majority of our bespoke collection is crafted from repurposed dead-stock fabrics, breathing new life into sumptuous textiles that deserve to be cherished. In doing so, we not only reduce our ecological footprint but also advocate for a more conscious approach to fashion consumption.
By choosing a gown from our bespoke collection, you are not just investing in a garment; you are investing in a sustainable future. Your special day becomes a celebration not only of love but also of responsible fashion choices. Together, we can make a difference, one exquisite gown at a time.
Industry pre-order is now opened. The capsule collection will be available for individuals to order from 15th October, 2023.
Quirky Eyeswear 🙂
We all love somthing fun!
Kimono inspired Dress
(Shell) Bonded Viscose Satin 450.0g

(Lining) Cotton 100.0g
(Lining) Polyester 100.0g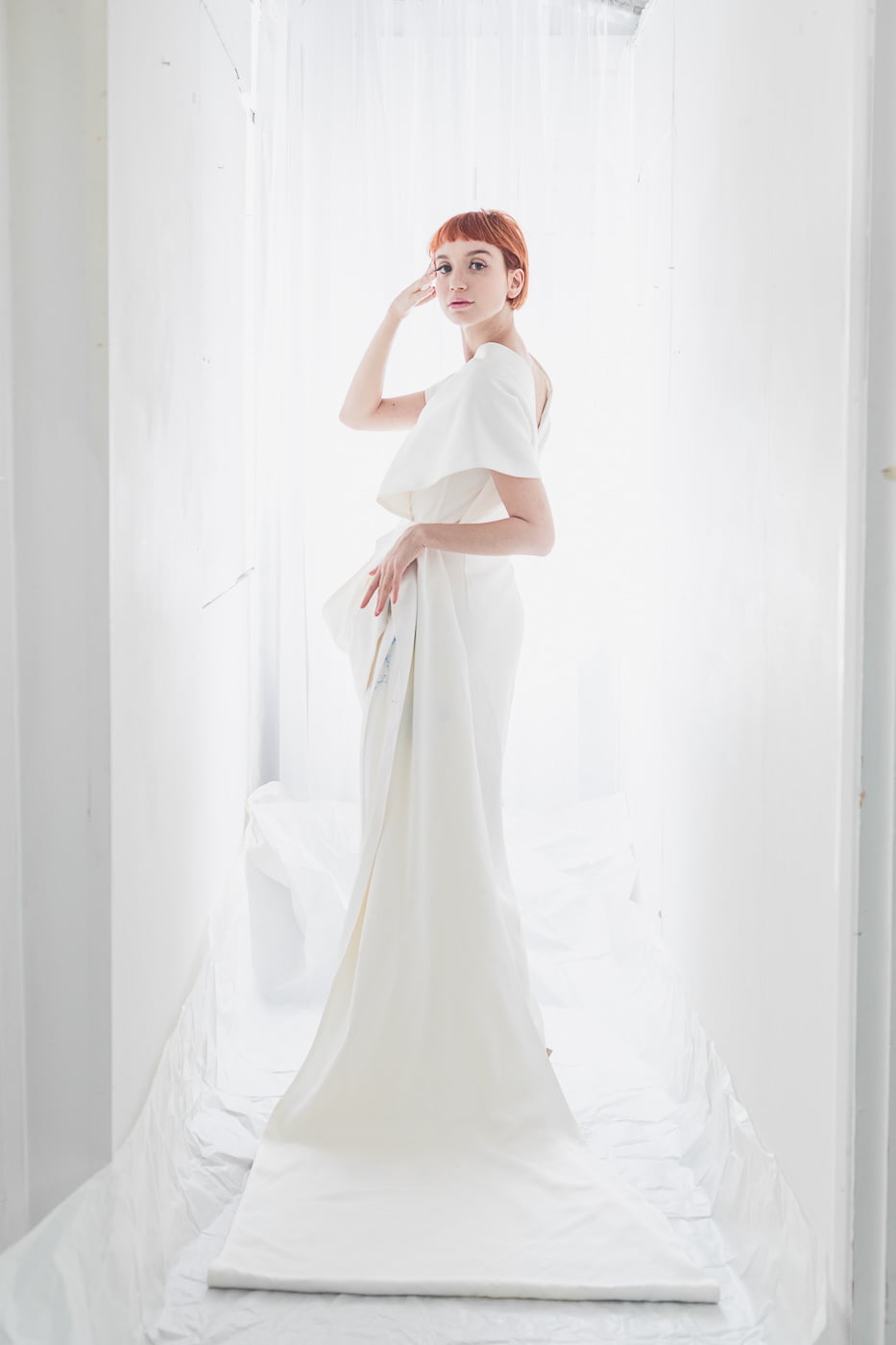 Kimono inspired Printed Dress
(Shell) Dutches Satin 200.0g
(Shell) Silk Organza 50.0g
(Lining) Cotton 100.0g
(Lining) Polyester 120.0g
Your day, your design. We will collaborate with you for your very own, one-of-the-kind print, to celebrate your uniqueness and story.
Of course, you can leave the dress white as well.
Why Deadstock?
There are lots of beautiful fabrics not being used. Why not take the opportunity to get the most economy price tag but high quality fabrics? 
Kimono inspired Top and Trousers
(Shell) Bonded Viscose Satin 450.0g
(Lining) Cotton 100.0g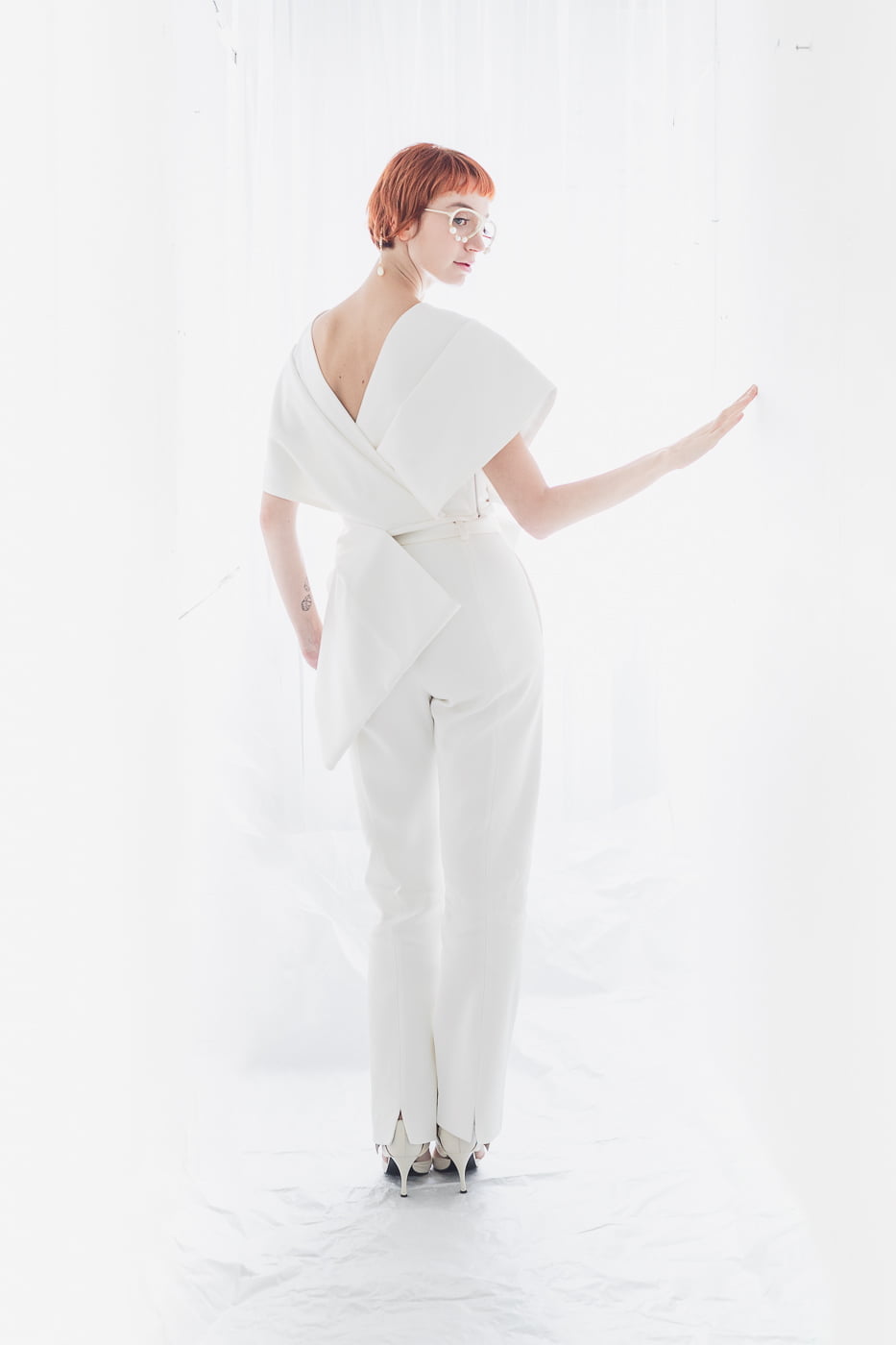 Bespoke Design
Want to change any details on the dress? Yes, we can help. Contact us to find out more.