Our First Upcycling Workshop
We have got Bianka in the house! She upcylced an ill-fitted dress she bought during holiday in Singapore. She loves the fabrics, but because of the dress doesn't fit her upper body, she has put it in her wardrobe for 8 years without touching it.
Now, she cut off the top part and made a skirt with this beautiful fabric she loves.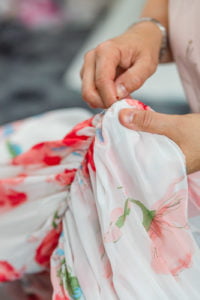 In our upcycling workshop, you will learn how to transform unwanted items into something new and beautiful. Each week, we will cover a variety of techniques, including:
Repurposing old clothing
Upcycling accessories
Making jewellery from recycled materials
Creating art from unloved clothes
We will also provide you with the opportunity to share your own ideas and projects. This is a great way to learn from each other and get inspired.
In addition to the educational component, this workshop is also a chance to have fun and meet new people who share your interests. We will provide snacks and drinks, and there will be plenty of time to socialise.
Order your tickets today!
Space is limited, so don't wait. This is a great opportunity to learn new skills, meet new people, and make a difference in the world.
We hope to see you there!